Revision Rhinoplasty (Corrective Nasal Surgery)
The patient who requests for a nose job (rhinoplasty) has specific expectations on nasal aesthetics. Unrealistic patient expectations and poor surgical results have increased the incidence of revision rhinoplasty procedures being performed today. Revision rhinoplasty or corrective nasal surgery is a surgical procedure that is performed on a previously operated nose to address its complications or undesired results. Patients who seek revision rhinoplasty often complained of the undesirable outcome of the initial nose surgery, breathing difficulties or complications arising from infection, implant problems, etc. It is considered as one of the most complex facial plastic surgical procedure to perform as it is both technically and aesthetically challenging.
The reconstruction of a beautiful nose must be precise and proportionate to the patients' facial features. The challenges in revision rhinoplasty include excessive scarring from previous one or multiple surgeries, unpredictable tissue healing, nasal structural deformities and presence of other foreign bodies within the nose. The scarred and altered tissues must be replaced. The nasal framework should be reinforced in their proper place by re-arranging the nasal cartilagineous structure or using autologous tissue to reconstruct the deformed nose. These autologous tissues include cartilage that can be harvested from the ribs or ears to restore structural support for the tip and/or bridge of the nose. On the other hand, fascia or fat grafts may be used to provide tissue coverage or volume to the deficient areas of the nose. All these efforts must be made to combat the distorting effects of skin and soft tissues that have been scarred by the previous unsatisfactory surgical result.
Lastly, the function of the nose for breathing must also be maintained or, in many times, repaired. This is done by strengthening those elements of the nose that are responsible for keeping the air passages open. It is prudent to acknowledge that despite a surgeon's best efforts, revision rhinoplasty has a higher revision rate than primary rhinoplasty.
Indications for revision rhinoplasty:
Undesirable or unsatisfactory cosmetic results
Breathing difficulties
Complications arising from previous nose surgery such as scarring, infection or implant associated problems
Many factors determine whether or not a patient is the right candidate for revision rhinoplasty. Thorough preoperative evaluation, patient selection and discussion of the expectations for surgery are essential to ensure the good surgical outcome. Special considerations for revision rhinoplasty include:
Number of previous nasal surgeries
Quality and characteristics of the patient's nasal skin
Nasal framework
Amount of scar tissue present
The extent of deformities caused by post-surgical healing and scarring
The ideal candidate for revision rhinoplasty:
Patient with realistic expectations
Should wait for at least 9-12 months from the initial nose surgery
Healthy individuals who do not have life-threatening illnesses or medical conditions
Preferably non-smokers
Preoperative evaluation before revision rhinoplasty
Communication is vital to achieving the patient's goals. During the initial consultation, patients should discuss their goals and expectations with the plastic surgeon. The plastic surgeon will work closely with the patients to reach an agreement about the desirable results from the surgical procedures involved and their long term benefits. Every patient is different. Therefore a specific treatment regimen is planned to suit an individual's need.
Discussion about expectation and desired outcome
Medical conditions, drug allergies and previous medical or surgical treatment
Use of current medications, vitamins, herbal supplements, alcohol, tobacco and drugs should be revealed
Discussion of type of anaesthesia
Examination of the nose and face
Radiological assessment of the nose and face with 3D-Computed Tomography scan
Photography for preoperative and postoperative evaluation
The risks and safety information on revision rhinoplasty
The practice of medicine and surgery is not a perfect science. Therefore, some risks may occur even in the hand of an expert. Although good results are usually achievable, some potential risks may arise such as
Infection
Bleeding
Poor wound healing
Numbness (temporary)
Scarring
Skin discolouration
Skin contour irregularities
Post rhinoplasty swelling
Nasal asymmetry
Alteration in the nasal airway
Possibility of revision surgery
Anaesthesia risks
The postoperative expectation for revision rhinoplasty
A splint or bandage is usually placed on the surface of the nose to support and protect the new structures during the initial healing phase. After the surgery, there will be swelling, bruises or discomfort, irritation for several days that can be controlled with oral medications, cold compression and ointment. Occasionally, the nose may be packed to control nose bleeding. Oral antibiotics and analgesics will be prescribed to reduce the risk of infection and postoperative pain, respectively. The cast, splints and any externally visible sutures are removed one week after surgery. Most patients return to work one week after surgery. Any bruising around the eyes that may occur typically resolves within two weeks postoperative. Swelling peaks two to three days after surgery and gradually subsides after that. A considerable reduction in swelling is evident in one month, but the nose will continue to heal for a full year after surgery. Routine postoperative follow up are periodically scheduled for the year following surgery to ensure optimal healing.
Case No. 1;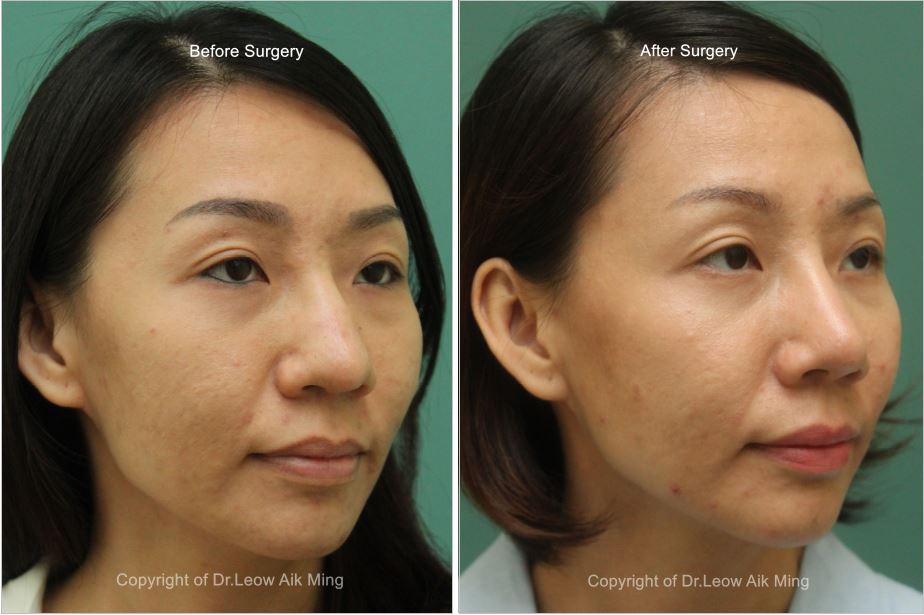 Case No. 2;
Case No. 3;
Case No. 4;
How much will a revision rhinoplasty surgery cost?
Cost is always a consideration in elective surgery. Revision rhinoplasty prices can vary widely.
The price of revision rhinoplasty may include:
Surgeon's fee
Hospital or surgical facility costs
Anaesthesia fees
Prescriptions for medication
Medical tests
When a revision rhinoplasty is performed for previous surgery done for nasal trauma or to improve breathing function, this procedure is considered as reconstructive surgery and may be covered by insurance. This requires a detailed examination to verify the cause before authorisation from your insurer. Patients are advised to contact their insurance company for further verification.